Grand Ole Opry House Tickets
Load More
Grand Ole Opry House is one of the most popular venues in the country. If you plan on attending an event at this famous venue, then go through the Grand Ole Opry House Seating Chart. You can take a Virtual tour of the Grand Ole Opry House to get an interactive seat view. Go through the Grand Ole Opry House seating map, and check the Grand Ole Opry House parking prices, if available.

Grand Ole Opry House 2024 TICKETS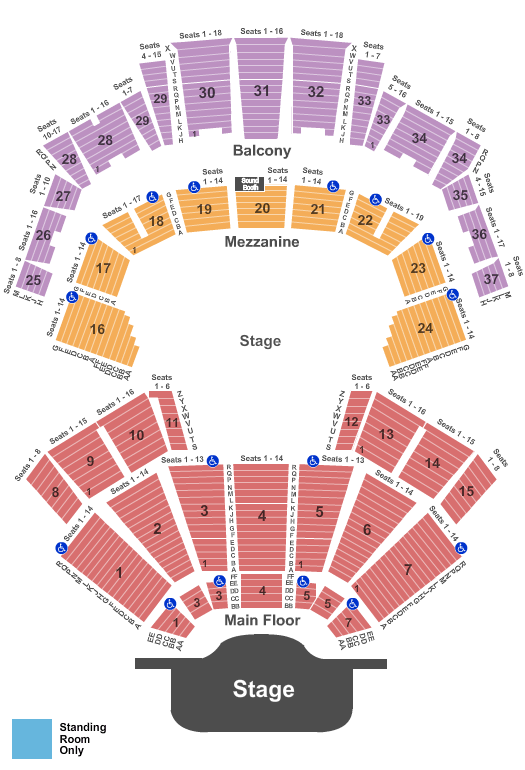 Grand Ole Opry House Tickets Related Questions
Who will play at Grand Ole Opry House today?
To check Grand Ole Opry House for today, all you have to do is visit our website and check event listings along with available tickets. Right now, following events are happening at Grand Ole Opry House:
How many seats are available in Grand Ole Opry House?
The seating capacity of Grand Ole Opry House is 466.
Can you buy event tickets at Grand Ole Opry House?
Yes, you can buy tickets at Grand Ole Opry House provided if they are available.
What are the best seats available at Grand Ole Opry House?
Just like every other venue, there are different levels at Grand Ole Opry House as well. The entire seating plan is available on our website, and you can book tickets for the section you like.
How many events are taking place at Grand Ole Opry House this week?
You can check the complete list of events taking place at Grand Ole Opry House this week and beyond by simply logging on to the venue's page on our website.
A trip to Nashville is incomplete without visiting the Grand Ole Opry House, the largest broadcasting studio in the world. This grand facility is the center-point of country music in America and a tourist attraction that welcomes hundreds of thousands of visitors every year.

Grand Ole Opry is all about, well, Grand Ole Opry. This live events center is home to the most famous weekly radio program of country music that is broadcasted live through WSM radio. Since its debut on November 28, 1925, this show have played many legendary artists and also launched many who become superstars later in life. The show is also telecasted every Saturday as Opry Live on Great American Country network and also appears on Nashville Satellite channel.

The Grand Ole Opry is a path-breaking show that has played a great role in promoting country music all over United States. It started off in 1925 as The WSM Barn Dance, thus it currently holds the honor of being the longest-running music program of radio. The show's history is full of unforgettable performances and musical landmarks. By featuring the likes of Elvis Presley, Hank Williams, Roy Acuff, Ernest Tubb, Patsy Cline and Little Jimmie Dickens, the show has redefined the charm and aura of country music. It has also hosted famous comedians like Archie Campbell and Minnie Pearl and many successful radio jockeys remain the part of its team.

As soon as the radio show grew in popularity, the need for a bigger venue also grew. Thus the show kept moving to bigger and better venues. Over the years, Grand Ole Opry had been kept moving to Hillsboro Theatre, East Nashville Tabernacle, auditorium of the war memorial, and finally at Ryman Auditorium.

Grand Ole Opry had a fantastic run at Ryman Auditorium and the show reached new heights of popularity. The never-ending charm for the show compelled the authorities to move the show into more better and grand facility where a huge number of live audiences can enjoy each performance exclusively. This came true with the opening of Opryland USA.

March 15, 1974 was the goodbye date of Grand Ole Opry at Ryman Auditorium. The very next night, it was moved to Grand Ole Opry House, Nashville's permanent home for hosting the Grand Ole Opry live broadcasts. As part of Opry Entertainment Complex, this $15 million facility attracted the attention of music lovers ever since its inauguration by President Richard Nixon and this also started a new era of broadcast excellence in the region.

Today, the Grand Ole Opry House is more than a concert venue. It forms a part of Opry Entertainment Complex along with three other unique entertainment venues; the Opry Museum, the Opry Plaza and the Acuff Theatre. The last was named after the show's biggest personality and the King of Country Music in 1930s and 1940s, Roy Acuff.

With a seating capacity of 4,400, the Grand Ole Opry House Nashville is considered the largest broadcasting studio in the world. The venue is an architectural wonder as it is designed in such a way that it accommodates radio broadcasting without affecting the concert experience for the live audience. Perfect in acoustics and service, the house still remains stick to the Ryman tradition as it places an eight-foot circle of hardwood on the center stage that was taken from the Ryman.

The main facility, Opry Entertainment Complex, is no less attractive. It hosts live shows like USA Network's Nashville Star, concerts, parties and other events. However, the show stopper facility here is the Grand Ole Opry House that can be seen chockfull of audience throughout the year.

One can watch the likes of Brad Paisley, Carrie Underwood, Martina McBride, Vince Gill, Trace Adkins, Dierks Bentley, Marty Stuart, Garth Brooks, Dolly Parton, Mel Tillis, Ricky Skaggsand others at the Grand Ole Opry House. Both the regular members of the show and occasional performers ensure full-on entertainment in the house.

Watching a live radio broadcast at Grand Ole Opry House is an experience of a lifetime. The dynamic atmosphere makes the audience a part of the action as they can see what others are hearing live on radio. Watching the disc jockeys and radio commercials live on stage is a rare experience that one can either enjoy within broadcasting house or the Grand Ole Opry.

Grand Ole Opry House presents the best and brightest stars of country music from the past and present. This place is meant for serious musical enthusiasts who want wholesome entertainment in a perfectly created environment. If you are one of them, then book your Grand Ole Opry Nashville Tickets and embark on a fantastic journey of country music!
Suggested Events
Frequently Asked Questions (FAQs)
Grand Ole Opry House
was rated 
Can you guys urgently arrange tickets for grand ole opry house ?
Yes we can arrange your Grand Ole Opry tickets on urgent Basis. Just fill the special instructions box and provide us with your number that we can contact you on. Thanks
I want to know the name of the mailing service in use here for grand ole opry schedule tickets?
Grand Ole Opry House Tickets with us are mailed via FedEx, the most trusted mailing service in the world.
Which mailing service is in use here for grand ole opry shows tickets?
Grand Ole Opry House Tickets like all other tickets at this site are mailed through FedEx.
Can I only buy ]grand old opry house tickets online or can I do it over the phone?
You can book these tickets by calling at (866)-861-4784 and placing the order over phone.
Hi, im thinking of buying some grand ole opry 3 16 tickets. But i need some kind of discount or something.
We offer decent amount of discount on all the Grand Ole Opry House tickets. Thanks.
Can you please tell me the grand ole opry show schedule?
You can get the details of the event from the page of Grand Ole Opry House Tickets.
Where can i look for grand old opry schedule?
For dates, timings and schedules please refer to the event info page. Thanks.
I was wondering if you guys have the full grand old opry house schedule?
Kindly see our Grand Ole Opry House section for details.