Cadillac Palace Tickets
Load More
Cadillac Palace is one of the most popular venues in the country. If you plan on attending an event at this famous venue, then go through the Cadillac Palace Seating Chart. You can take a Virtual tour of the Cadillac Palace to get an interactive seat view. Go through the Cadillac Palace seating map, and check the Cadillac Palace parking prices, if available.

Cadillac Palace Seating Chart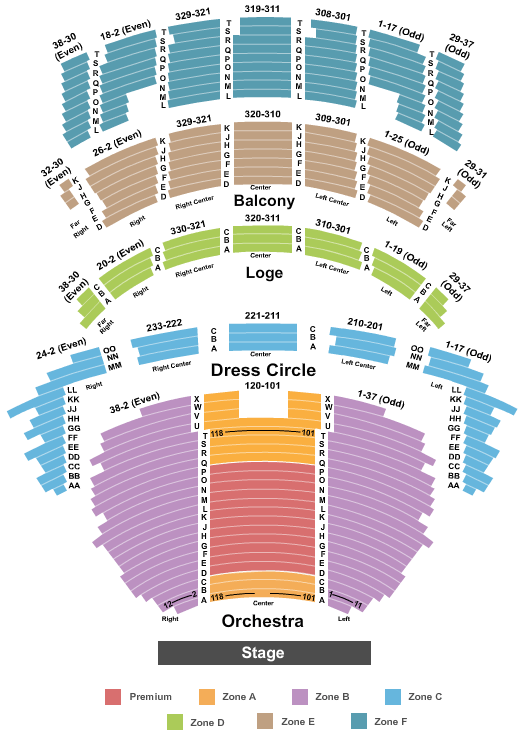 Cadillac Palace Tickets Related Questions
Who will play at Cadillac Palace today?
No event is happening in Cadillac Palace tonight.
How many seats are available in Cadillac Palace?
The seating capacity of Cadillac Palace is 470.
Can you buy event tickets at Cadillac Palace?
Yes, you can buy tickets at Cadillac Palace provided if they are available.
What are the best seats available at Cadillac Palace?
Just like every other venue, there are different levels at Cadillac Palace as well. The entire seating plan is available on our website, and you can book tickets for the section you like.
How many events are taking place at Cadillac Palace this week?
You can check the complete list of events taking place at Cadillac Palace this week and beyond by simply logging on to the venue's page on our website.
Cadillac Palace
Cadillac Palace, home to pre-Broadway tours and word premiers, located at 151 West Randolph Street on the Chicago Loop area downtown, is a Chicago theatre, owned by the Nederlander Organization and operated by Broadway in Chicago.

Formerly it was the The New Palace Theatre, and it originally opened in 1926 as the New Palace Theatre. This theatre with distinctive characteristics was designed by the legendary theatre architects, the Rapp Brothers.

Their inspiration for the look and feel of the Palace Theatre came from the Fountainebleau and the Palace of Versailles, both found in France. The Cadillac Palace Theatre provides an evening out fit for tourists and natives alike. It comprises of, huge decorative mirrors, breche violet and white marble.

The walls inside are adorned with gold leafing and wood decorations, as well as and crystal chandeliers, and a series of complex arches and detailed brass ornamentation, thus, creating the look, the feel and an atmosphere of a French palace.

However, during World War II, the owners of the theatre painted all the brass white in order to trick the government so that they wouldn"t confiscate it. The brass was left this way and generally forgotten about until the recent renovation of the theater, when the paint was scraped off and the rare brass ornamentation was rediscovered and restored to its original state.

The theatre was opened as part of vaudeville's Orpheum Circuit and has housed stars such, as Jimmy Durante, Mae West, Jack Benny, Sophie Tucker, and Bob Hope. After the loss of interest in vaudeville, the theatre was converted into a movie palace in 1931.

In 1950s when the audiences preferred staying at home and watching television, the theatre managers started booking occasional Broadway shows, like, "Gentlemen Prefer Blondes" starring Carol Channing, hoping to attract larger audience.

During the late 1950s, the Palace was fitted with special equipment to show films in Cinerama. During the mid-1970s, the management of the Bismarck Hotel transformed the auditorium into a banquet hall by removing the seats on the orchestra level and bringing the floor flush with the stage.

Then in 1984, the theatre was renamed the Bismarck Theatre and turned into a rock venue. Remodeled in 1999 to its current splendor, it was home to the successful nine-month run of "The Lion King".

It was renovated and renamed the Cadillac Palace Theatre after Cadillac purchased naming rights to the venue. The 2,300-seat Palace, with orchestra, dress circle and balcony, was renovated at a cost of $20 million.

The Cadillac Palace became home to pre-Broadway tours and world premieres with the opening of Elton John and Tim Rice's Aida. This was the beginning of many Broadway caliber shows to pass through the Cadillac Palace.

Mel Brooks's The Producers premiered in Chicago starring Nathan Lane and Matthew Broderick in February 2001. In October 2006 The Pirate Queen made its premiere. Oprah Winfrey presents The Color Purple sat down for its long-run from April 2007 to September 2007.

Currently, the theatre is hosting the event Dirty Dancing and will be hosting it till the 17th of January, 2009. Soon after that, the event Marry Poppins will be taking place at this huge venue based in Chicago in the month oh March, 2009.
Guide to Cadillac Palace: Tickets, Events and Venue Information for 2023-2024
Cadillac Palace Best Seats
DCIR-C
ORCH-C
BALC RC
BALC LC
BALC CTR
Cadillac Palace 2023
Cadillac Palace Tonight
No event is happening in Cadillac Palace tonight.
Cadillac Palace This Weekend
No event is happening in Cadillac Palace this weekend.
Cadillac Palace Sep 2023
Spider-Man: Into the Spider-Verse Live in Concert
Cadillac Palace Oct 2023
A Wonderful World
Bob Dylan
Frequently Asked Questions (FAQs)
Cadillac Palace
was rated 
I want cheap Cadillac Palace Theatre discounts on tickets. Where can I get them from?
Get your Cadillac Palace tickets from Ticket Luck today, and avail our special discount offer! Ticket Luck has proven to be the best ticket-selling website in the world as it offers tickets to all the events on very cheap prices!
I want Cadillac Palace discount tickets, does your website offer discounted tickets?
Ticket Luck offers amazingly cheap tickets to any event, due to its magnificent discount deals available, especially designed for its valued customers! Grab your Cadillac Palace tickets today!
I wan to buy really cheep cadilac palace tickets. How can I get them?
Visit our website and find some cheap Cadillac Palace Tickets and if you enter the discount code, you will get an additional discount on your purchase. Enjoy!
Do you have a cadillac palace discount code available?
All are tickets are discounted so grab your discount code and place an order for Cadillac Palace tickets with us right now!
We are interested in getting discount tickets for Mary Poppins Chicago and need some guidance.
This is very easy. Just browse ticketluck.com and discount tickets for Mary Poppins Chicago can easily be purchased there.
Are you selling cheap tickets Cadillac Theater?
Yes, we are. Kindly book your order today and avail our special discount offer on Cadillac Palace tickets!
Are all the cadillac palace theatre discount tickets sold out?
No, we still have so many Cadillac Palace Tickets with us and you can get them any time you want.
Please guide me regarding where to find code for cadillac theater tickets?
Cadillac Palace Tickets on codes can easily be obtained after logging on to our sites.
Are there any young frankenstein discount tickets broadway chicago up for sale?
We have a large collection of Young Frankenstein tickets, go get them now!
I want to watch the Mary Poppins Chicago. Does your website have the tickets to it?
Yes, Ticket Luck offers you the best Mary Poppins Chicago tickets!
How to get discount tickets to cadillac palace theatre?
You can get Cadillac Palace Tickets easily from our website.