Byrd Stadium Tickets
Load More
Byrd Stadium is one of the most popular venues in the country. If you plan on attending an event at this famous venue, then go through the Byrd Stadium Seating Chart. You can take a Virtual tour of the Byrd Stadium to get an interactive seat view. Go through the Byrd Stadium seating map, and check the Byrd Stadium parking prices, if available.

Byrd Stadium Seating Chart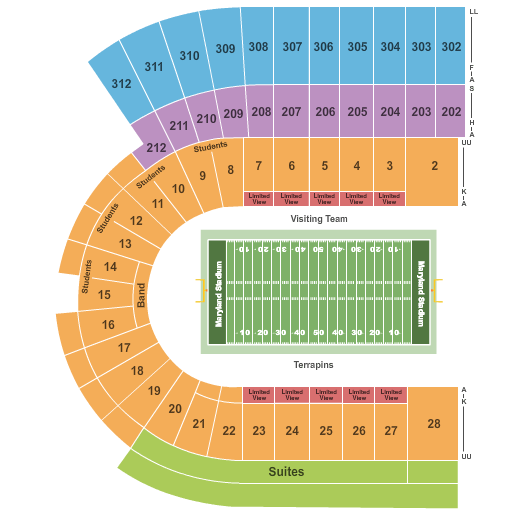 SECU Stadium Tickets Related Questions
Who will play at SECU Stadium today?
No event is happening in SECU Stadium tonight.
How many seats are available in SECU Stadium?
The seating capacity of SECU Stadium is 614.
Can you buy event tickets at SECU Stadium?
Yes, you can buy tickets at SECU Stadium provided if they are available.
What are the best seats available at SECU Stadium?
Just like every other venue, there are different levels at SECU Stadium as well. The entire seating plan is available on our website, and you can book tickets for the section you like.
How many events are taking place at SECU Stadium this week?
You can check the complete list of events taking place at SECU Stadium this week and beyond by simply logging on to the venue's page on our website.
Byrd Stadium
If you are looking for some high profile sporting action in Maryland, then Byrd Stadium should be your first bet. Standing proud among Eastern campus sports facilities, the Byrd Stadium serves the sporting needs of University of Maryland and is a home to ever-popular Maryland Terrapins that play many of its university and national games here.

For the sports enthusiasts, Byrd Stadium is a heaven on earth as the place provides non stop and extreme sporting events throughout the year.

The Byrd Stadium is a huge stadium that host matches and musical shows. It is situated at the foot of the campus' North Hill and is quite accessible from most parts of the city. The venue offers state-of-the-art facilities both for the spectators and the players.

This is a large venue that can host crowd of fifty thousand and above depending on the nature of event. Let us have a sneak peak at the history and construction of this premium sports facility in Maryland and explore the options the famous venue has to offer us.

The Byrd Stadium is named after Dr. H.C. Byrd who was not only a multi-sport athlete but also a student of University of Maryland who later became head football coach and eventually served as university president. The stadium was built in 1950 at a cost of $1 million.

The original capacity was 34,680 that time that was later increased following many renovations in year to come. The stadium was opened on September 30, 1950 with a dedication game before a school-record crowd of 43,386 fans in which Maryland defeated Navy 35-21.

Later, the Byrd has undergone a number of major facelifts to accommodate high profile events. In 1953, the stadium became home of Terrapin football team that also became a national champion and thus stared a long glorious journey of sporting madness in Maryland.

In the very first decade of its operations, the Byrd Stadium witnessed many exciting games. One of such encounters happened in 1955 and was billed as the "Best of the East" vs. the "Best of the West."

In the historic game, Maryland defeated No. 1-ranked UCLA 7-0 and made history at the Byrd Stadium. While the historians called that game one of the greatest of the decade, the stadium also got recognition as a place to reckon with.

Over the years, Byrd Stadium has undergone multiple renovations, largely to accommodate more spectators and host big sports events. The three major renovations occur in 1990"s that made the place more up-to-date than it was ever before.

After the 1990 home season, stadium was upgraded and a Tyser Tower press box was built. This is a fantastic five tier, 90-foot high, 160-foot long structure that was built on the stadium's south rim.

The Tower accommodates 300 exterior luxury seats, a hospitality suite with theater-style seating, a spacious working press area, television and radio booths, and a photo deck. The Gossett Football Team House was also constructed after that which is a fully facilitated football complex.

On the occasion of 100th year of football at the university, a bronze Terrapin was placed in front of the venue as a reminder of the long impressive sporting history. Later renovations were aimed at increasing the seating capacity as the stadium always witnessed gates shattering crowd.

The major attraction of tourists from around the world, Byrd Stadium has been a home of champions be it national championship football and men's and women's lacrosse teams or 50 ACC track and field champions.

From the Queen of England to Renaldo Nehemiah, the biggest and most honorable celebrities have graced the venue and more intend to do in times to come. So why don"t you also check out this beautiful stadium in Maryland and be a part of history.
Frequently Asked Questions (FAQs)
Can you send me the complete byrd stadium 2023 seating chart through an e-mail?
Yes, please provide us with your e-mail id and we will send you complete details about Byrd Stadium Tickets and the seating chart right to your inbox.
Will byrd stadium seating offer different prices for adults and kids?
There are no specific rules about that so it varies from venue to venue. We suggest you contact the arena before buying Byrd Stadium Tickets.