Brady Theater Tickets
Load More
Brady Theater is one of the most popular venues in the country. If you plan on attending an event at this famous venue, then go through the Brady Theater Seating Chart. You can take a Virtual tour of the Brady Theater to get an interactive seat view. Go through the Brady Theater seating map, and check the Brady Theater parking prices, if available.

Brady Theater Seating Chart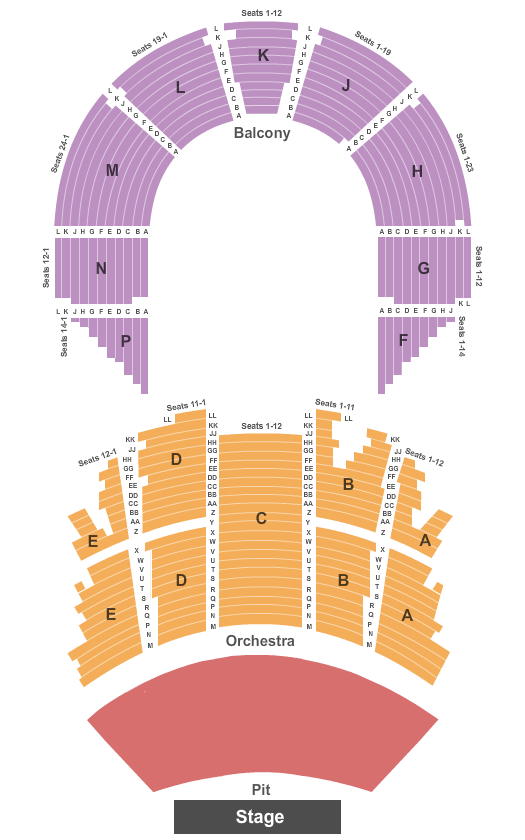 Tulsa Theater Tickets Related Questions
Who will play at Tulsa Theater today?
No event is happening in Tulsa Theater tonight.
How many seats are available in Tulsa Theater?
The seating capacity of Tulsa Theater is 2444.
Can you buy event tickets at Tulsa Theater?
Yes, you can buy tickets at Tulsa Theater provided if they are available.
What are the best seats available at Tulsa Theater?
Just like every other venue, there are different levels at Tulsa Theater as well. The entire seating plan is available on our website, and you can book tickets for the section you like.
How many events are taking place at Tulsa Theater this week?
You can check the complete list of events taking place at Tulsa Theater this week and beyond by simply logging on to the venue's page on our website.
Brady Theater
Tulsa offers many opportunities for entertainment such as Live Music, Theater, Movies, Performing Arts and other recreation. But, attractions like Brady Theater may make locals and visitors alike fall in love with the exciting events that Venue puts up for them.

The historic Brady Theater is noted for its commitment to providing good entertainment to its audience. With a seating capacity of 2,800, the Venue is located in downtown Tulsa, Oklahoma and is physically viable for symphonic and popular music as well as other events including dance, theater, musicals, meetings and ceremonies. If you have not visited the place recently, take the time out to see what"s going on at theater-goers" favorite spot!

The history of the Brady Theater dates back to 1914, when it was originally designed as a municipal auditorium and convention hall. Forty years after the construction of Convention Hall, the building was officially opened and billed as the largest hall between Kansas City and Houston.

It only took 30 days to world-renowned architect Bruce Goff to transform the barn-like interior of the Convention Hall into an elegant showplace. Later in 1952, after adding upper and lower lobbies, the building was renamed as Tulsa Municipal Theater.

The building that was built as a municipal auditorium managed successfully to mark its place on the National Register of Historic Places in 1979.

Tulsa Municipal Theater was sold to the present owner, Peter Mayo in 1978. Around this time, it was renamed The Brady Theater and continued to serve as a venue for a wide variety of concerts and theatrical productions.

To-date the Brady Theater has put up on stage an array of eclectic shows, mesmerizing events while featuring international acclaimed artists and performers.

Some of the greatest names gracing the Venue were Louis Anderson, Adam Ant, Chet Atkins, Atlantic Starr, Burt, Tony Bennett, Blood Sweat & Tears, Pat Boone, Glen Campbell, The Cars, Chicago, Roy Clark, Rosemary Clooney, George M. Cohan, John Conlee, Earl Thomas Conley, Alice Cooper, David Copperfield, Bill Cosby, Devo, The Fabulous Thunderbirds, John Fogerty and others.

The Brandy Theater has undergone some renovation over time, but the character and atmosphere still live on. This downtown"s gorgeous old theater also earned a moniker "The Old Lady on Brady".

The Brady Theater is clearly a classic with a ton of character. The acoustically perfect venue is also characterized distinctly for keeping up Tulsa"s heritage. Some of the events scheduled to take place at the Venue will feature Robin Williams, Ryan Adams and The Pretenders.

People consider the Venue a good place to see a Concert. So get your tickets and see your favorites LIVE at the Brandy Theater in your City!

Outside the Brandy Theater, you may cross street vendors, good restaurants and other interesting attractions that you won"t want to miss! Enjoyable entertainment, audience participation and heart-warming events ? The historic Brandy Theater has it all.

Check-out for all ongoing and upcoming events scheduled at the Venue and experience for yourself one of the most fascinating arenas in American history.

The Theater provides you ample opportunity to escape from the mundane, so take some time out for yourself, break your monotonous life and let your hearts laugh aloud!
What is brady theater ticket service?
The total cost breakdown (including service fee) is reflected during the purchase process BEFORE you give out your credit card information on the check-out page. So, choose Brady Theatre Tickets and click purchase tickets button to navigate to the check-out page.
I have some questions about brady theater seating. Who can i contact?
You can look through the seating map mentioned on the page of Brady Theater Tickets or contact our live help reps for further details.
I wanna see norah jones in tulsa oklahoma! Do ou have tix for this event?
Sure we do! Browse our Brady Theater tickets invemtory and book tickets for the Norah Jones event today!
Can you help me find norah jones best price on tickets in tulsa ok?
Browse our Brady Theater inventory to select a Norah Jones ticket of your choice.
I need the black label society tickets brady theater tickets.
We have plenty of Brady Theater Tickets available. Get them now!