Boston Symphony Hall Tickets
Load More
Boston Symphony Hall is one of the most popular venues in the country. If you plan on attending an event at this famous venue, then go through the Boston Symphony Hall Seating Chart. You can take a Virtual tour of the Boston Symphony Hall to get an interactive seat view. Go through the Boston Symphony Hall seating map, and check the Boston Symphony Hall parking prices, if available.

Boston Symphony Hall Seating Chart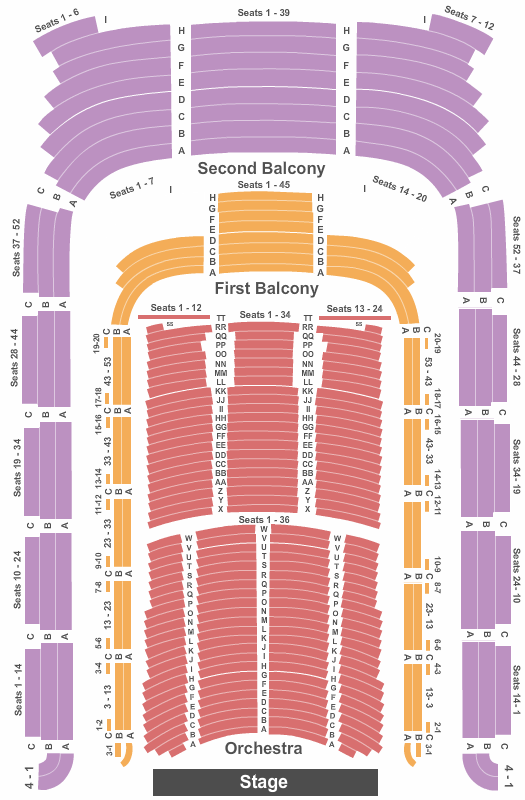 Boston Symphony Hall Tickets Related Questions
Who will play at Boston Symphony Hall today?
To check Boston Symphony Hall for today, all you have to do is visit our website and check event listings along with available tickets. Right now, following events are happening at Boston Symphony Hall:
Boston Pops: Holiday Pops
How many seats are available in Boston Symphony Hall?
The seating capacity of Boston Symphony Hall is 17232.
Can you buy event tickets at Boston Symphony Hall?
Yes, you can buy tickets at Boston Symphony Hall provided if they are available.
What are the best seats available at Boston Symphony Hall?
Just like every other venue, there are different levels at Boston Symphony Hall as well. The entire seating plan is available on our website, and you can book tickets for the section you like.
How many events are taking place at Boston Symphony Hall this week?
You can check the complete list of events taking place at Boston Symphony Hall this week and beyond by simply logging on to the venue's page on our website.Top selling event of the week is Boston Pops: Arthur Fiedler - Holiday Pops.
Boston Symphony Hall
Embracing a rich and engaging history, the Boston Symphony hall is acclaimed for its uncompromising pursuit of artistic excellence and perfection.

The widely recognized Boston Symphony Hall offers a variety of concerts year-round, in addition to pop series, family concerts including classical, pops, and free parks concerts.

In a city of rich cultural and artistic history, the Hall was the first home of the international acclaimed Boston Symphony Orchestra.

The Orchestra has played the leading role in Boston"s musical life for over a century. Today, the Boston Symphony Hall is widely regarded as one of the three finest concert halls on earth.

The history of Boston Symphony Hall dates back to 1900, when it opened with an inaugural gala led by music director Wilhelm Gericke. The first concert hall designed with acoustical principles in mind, the Boson Symphony Hall also became the first home of the Old Boston Music Hall.

The architects like McKim, Mead, White and acoustical consultant Wallace Clement Sabine contributed remarkably to turn the Boston Symphony Hall into the first auditorium designed in accordance with scientifically derived acoustical principles.

The interior of the Venue comprises of a stage, the walls of which slop inward to help focus the sound. The Hall can seat 2,625 people during the Boston Symphony Orchestra season and 2,371 during the Pops season.

The Boston Symphony Hall is long, narrow, and high, in a rectangular "shoebox" shape. In 2006, the Hall underwent some renovation. Due to wear and tear, the concert stage floor was replaced using original methods and materials.

These included hard maple, a compressed wool underlayment and hardened steel cut nails, hammered home by hand. Also, converted into handcrafted pens were the old floorboards.

Audience can also see Beethoven"s name, inscribed over the stage. Beethoven was the only original composer that the original directors could fully agree upon. The hall can accommodate 800 people for dinner.

When the Boston Symphony Hall opened, installed in there was George S. Hutchings" Organ. It was electrically keyed, with 62 ranks of nearly 4,000 pipes, but by the 1940s, the organ had fallen out of fashion. Around this time, lighter, clearer tones were preferred.

The Hutchings" Organ was replaced by current organ. G. Donald Harrison-designed- organ was installed in latter half of "40s. A 4,800-pipe Aeolian-Skinner is considered one of the finest concert hall organs on earth.

In 2003, it was thoroughly overhauled by Foley-Baker Inc. They reused the Organ"s chassis and many pipes, while adding to it the long-desired Principal (flute) pipes.

Boston has a welcoming community where you can enjoy affordable entertainment by local, national and international performers.

The region offers you attractions like Boston Symphony Hall which may make both locals and visitors fall in love with the event the hall puts up for them.

Enjoying an international reputation as one of the best musical performance halls on planet, The Boston Symphony Hall is listed on Nations Register of Historic Places. In addition to the Boston Symphony Orchestra, the Hall is also home to the acclaimed Boston Pops.

If you have not visited the place recently, take a look at their current schedule and enjoy a night out at Boston Symphony Hall with family and friends!
Boston Symphony Hall
was rated 
Can I get joao gilberto symphony hall boston tickets?
You certainly can. Please select the date that suits you and get your Joao Gilberto Symphony Hall tickets right here at Tickets Luck.
How could I get aaa discount boston symphony orchestra?
You will have contact one of our Live Representatives and she will take care the Boston Symphony Hall discount tickets.
Im looking for the prices of boston symphony hall tickets. But cant find them.
Just go to our Boston Symphony Hall Tickets page, to find the prices out. Thanks