Bob Hope Theatre Ca Tickets
Load More
Bob Hope Theatre Ca is one of the most popular venues in the country. If you plan on attending an event at this famous venue, then go through the Bob Hope Theatre Ca Seating Chart. You can take a Virtual tour of the Bob Hope Theatre Ca to get an interactive seat view. Go through the Bob Hope Theatre Ca seating map, and check the Bob Hope Theatre Ca parking prices, if available.

Bob Hope Theatre Ca Seating Chart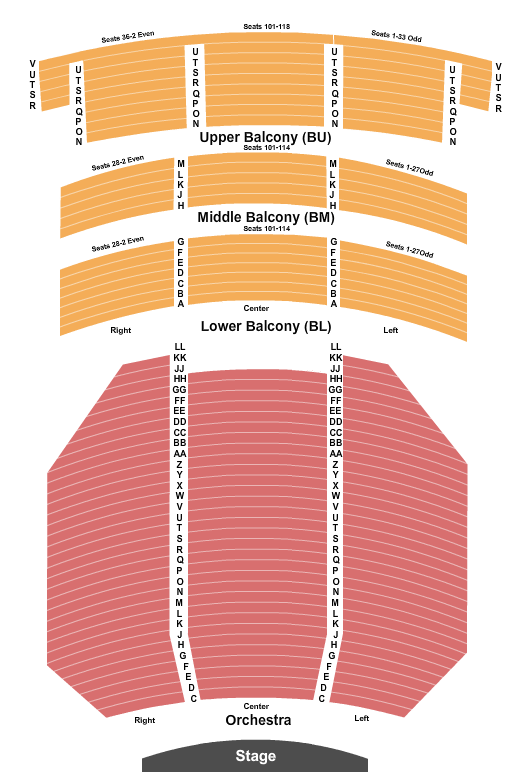 Bob Hope Theatre - CA Tickets Related Questions
Who will play at Bob Hope Theatre - CA today?
No event is happening in Bob Hope Theatre - CA tonight.
How many seats are available in Bob Hope Theatre - CA?
The seating capacity of Bob Hope Theatre - CA is 19374.
Can you buy event tickets at Bob Hope Theatre - CA?
Yes, you can buy tickets at Bob Hope Theatre - CA provided if they are available.
What are the best seats available at Bob Hope Theatre - CA?
Just like every other venue, there are different levels at Bob Hope Theatre - CA as well. The entire seating plan is available on our website, and you can book tickets for the section you like.
How many events are taking place at Bob Hope Theatre - CA this week?
You can check the complete list of events taking place at Bob Hope Theatre - CA this week and beyond by simply logging on to the venue's page on our website.Top selling event of the week is Abbafab - The Premier Abba Experience.
Bob Hope Theatre is among the most beautiful historic American theatres located in Downtown Stockton where the neighboring community can participate in the local arts, dance, classic films, comedy, exciting musical and Broadway type entertainment. Considered by some to be the emblem of Stockton's history, it is also known as 'The Fox'. Its previously hosted famous artist and events include Taste of San Joaquin, JoKoy, Friends and Fox40 of Fox presents: Dr. No, Jerry Seinfeld, Mindless Behavior, Spank! Fifty Shades Parody, The Latin Comedy Jam, Theresa Caputa Live Experience, Chris Tucker, Ron White, and others. Since the theatre presents such a vast variety of shows, it comes as no surprise to see Bob Hope Theatre - CA tickets being such a sought-after favorite of the city.
Bob Hope Theatre was initially built in 1929 when Fox West Coast Theatres invested almost half a million dollars for the construction of a luxurious, comfortable and safe theatre that would come to be called the Fox or the Fox California. This theatre opened in October of the following year, marking the most grandiose and prestigious event of the area. With more than two thousand, one hundred and seventy seats, the Fox is really the largest vaudeville house of California and is also among the safest building of its time. Having been built almost completely of steel and cement, it has the ability to evacuate its visitors in the span of two minutes.
One of the many jewels of the theatre is its Wurlitzer pipe organ comprising of three manuals and two pipe lofts that cost forty thousand dollars at the time of its construction in 1930. The place was entirely renovated towards the late nineties and beginning 2000s, at which point its name was changed to Bob Hope. Guests can enjoy the richly decorative murals and wood carvings in the main chamber and lobby. The lobby's original water feature was replaced with a fascinating marble mosaic with a water theme. It still retains a Robert Morton theater organ that was placed there in 1928 and was last played more than fifty years back in Seattle Fox Theatre. It was then restored to its present form and donated to Bob Hope by The Friends of Fox. Since the theatre's collection of antique organs is a particular source of attraction for its visitors, it plays organ concerts before each classic movie showings that are presented once every month.
In recent past, the venue has hosted Darius Rucker with Special Guests Poor Man's Poison, French Quartet Street Fair, 6th  Annual Breakthrough Dance Competition, Stunt Dog Experience, UOP Present Anthony Hamilton, Josh Turner, Tom & Bob All Star Comedy Tour, George Lopez, Lee Boy Simpson and Tedeschi Trucks Band, Miss Pumpkins Motown Review and much more. Some of the most recent shows include In My Life, Anjelah Johnson, An American Werewolf, Elvis: If I Can Dream, and The Godfather Part II. So make sure to grab your Bob Hope Theatre - CA tickets and watch your favorite show while you walk through this historic site.
Bob Hope Theatre ca
was rated 
What will happen to my colbie caillat stockton ca tickets if the event is cancelled?
In case of cancellation of the event you will be refunded for your Bob Hope Theatre Ca Tickets.