Bmo Field Tickets
Load More
Bmo Field is one of the most popular venues in the country. If you plan on attending an event at this famous venue, then go through the Bmo Field Seating Chart. You can take a Virtual tour of the Bmo Field to get an interactive seat view. Go through the Bmo Field seating map, and check the Bmo Field parking prices, if available.

Bmo Field Seating Chart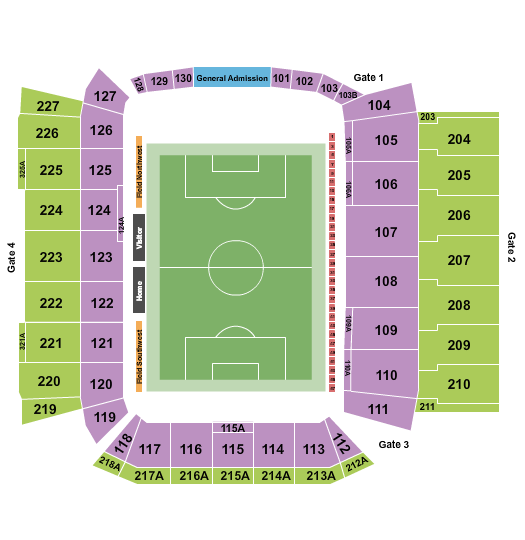 BMO Field Tickets Related Questions
Who will play at BMO Field today?
To check BMO Field for today, all you have to do is visit our website and check event listings along with available tickets. Right now, following events are happening at BMO Field:
Toronto FC vs. Nashville SC
How many seats are available in BMO Field?
The seating capacity of BMO Field is 15389.
Can you buy event tickets at BMO Field?
Yes, you can buy tickets at BMO Field provided if they are available.
What are the best seats available at BMO Field?
Just like every other venue, there are different levels at BMO Field as well. The entire seating plan is available on our website, and you can book tickets for the section you like.
How many events are taking place at BMO Field this week?
You can check the complete list of events taking place at BMO Field this week and beyond by simply logging on to the venue's page on our website.
BMO Field, nestled in the heart of Toronto's bustling Exhibition Place, has long been the epicenter of Canadian sports and entertainment. Since its inauguration in 2007, this versatile and awe-inspiring venue has witnessed countless memorable moments, as it plays host to Toronto FC of Major League Soccer and the Toronto Argonauts of the Canadian Football League.
 With a seating capacity of over 30,000 and a state-of-the-art retractable roof, BMO Field has not only become an iconic symbol of the city's vibrant sports culture, but also a testament to the unyielding passion and dedication of its fans.
Factors to Consider When Selecting Your Seats at the BMO Field
Selecting the perfect seats at BMO Field can greatly enhance your overall experience and enjoyment of the game or event. Here are some key factors to consider when choosing your seats:
Sightlines: Opt for seats with clear, unobstructed views of the field, ideally between the goal lines or along the sidelines. Higher rows in the lower bowl or lower rows in the upper bowl offer excellent vantage points for an overall view of the action.
Proximity to the field: For a more immersive experience, consider seats closer to the field, particularly in the lower bowl. However, be aware that being closer to the field may mean a more limited view of the opposite end.
Comfort and amenities: Premium seating options, such as club seats or luxury suites, offer extra comfort, exclusive amenities, and in-seat service. These options may be ideal for those seeking a more luxurious experience or for special occasions.
Sun exposure and weather: BMO Field features a retractable roof, but the sun can still be a factor during day games. Consider the sun's position and potential weather conditions when selecting your seats, particularly for sections that may be exposed to the elements.
Noise level: Supporters' sections, particularly those dedicated to Toronto FC fans, can be quite loud and energetic. If you prefer a quieter atmosphere, choose seats away from these sections.
Accessibility: For fans with mobility impairments or other accessibility needs, be sure to select seats in designated accessible seating areas, and check the stadium's facilities and services to ensure a seamless experience.
Budget: Finally, consider your budget when selecting your seats. Ticket prices can vary significantly based on the section, row, and type of event, so explore different options to find the best value for your preferences.
Taking these factors into account will help you select the ideal seats at BMO Field, ensuring an unforgettable experience at one of Toronto's most cherished sporting venues.
Best Seats at the BMO Field
To make the most of your experience at BMO Field, choosing the best seats is essential. While personal preferences and budgets may vary, the following seating options are generally considered the best:
Lower bowl center: Sections 107-110 and 126-129 provide an excellent view of the action from the heart of the stadium. These sections offer a balanced view of both ends of the field and are ideal for fans who want to be close to the field while enjoying a clear perspective of the entire game.
Upper bowl center: Sections 206-210 and 225-229 offer a higher vantage point that allows fans to see the entire field and appreciate the game's tactical aspects. These seats provide a panoramic view and are often more affordable than the lower bowl center sections.
Club seats: The Premium Club Seats, located in sections 108-109 and 127-128, offer an exclusive experience with wider, cushioned seats, in-seat food and beverage service, and access to the private club lounge. These seats blend comfort, excellent sightlines, and premium amenities for a top-notch experience.
Luxury suites: For those seeking an even more luxurious experience, BMO Field offers private suites with indoor and outdoor seating, catering options, and dedicated suite attendants. These suites provide a high level of comfort, privacy, and convenience for special occasions or corporate events.
Supporters' sections: For die-hard Toronto FC fans looking to immerse themselves in a lively atmosphere, the south end of the stadium (sections 111-118) is dedicated to supporters' groups. These sections are known for their energetic chants, songs, and flag-waving, creating a unique experience for passionate fans.
Ultimately, the best seats at BMO Field depend on your personal preferences, budget, and desired atmosphere. By considering factors such as sightlines, proximity to the field, comfort, and amenities, you can find the perfect seats to make your visit to BMO Field an unforgettable experience.
Upcoming Events at the BMO Field
Toronto FC games.
CONCACAF Gold Cup games.
Places to Visit Near the BMO Field
BMO Field is located in Toronto's bustling Exhibition Place, which offers a wide range of attractions and activities within walking distance or a short drive. Here are some popular places to visit near BMO Field:
Exhibition Place: This historic site features numerous events, exhibits, and attractions throughout the year, including the Canadian National Exhibition (CNE), the Royal Agricultural Winter Fair, and various trade shows and conventions.
Ontario Place: Situated along the waterfront, Ontario Place offers beautiful green spaces, recreational facilities, and entertainment options. Enjoy the Trillium Park, William G. Davis Trail, or catch a movie at the Cinesphere, the world's first permanent IMAX theatre.
Liberty Village: A trendy neighborhood just north of BMO Field, Liberty Village boasts an array of shops, restaurants, bars, and art galleries. This lively area is perfect for a pre-game meal or post-game celebrations.
Harbourfront Centre: Located along Toronto's waterfront, the Harbourfront Centre is a hub for arts, culture, and recreational activities. Visit the Power Plant Contemporary Art Gallery, attend a concert at the outdoor stage, or take a scenic stroll along the waterfront promenade.
Fort York National Historic Site: This historic site, just a short walk from BMO Field, is an important part of Toronto's history. Explore the birthplace of urban Toronto, learn about the city's military past, and attend special events and exhibits throughout the year.
CN Tower: No visit to Toronto would be complete without a trip to the iconic CN Tower. Take in the breathtaking views from the observation deck, enjoy a meal at the revolving restaurant, or test your courage on the thrilling EdgeWalk.
Ripley's Aquarium of Canada: Located at the base of the CN Tower, Ripley's Aquarium offers a fascinating underwater adventure. Marvel at the various marine species, walk through the glass tunnel, and enjoy interactive exhibits and educational programs.
Art Gallery of Ontario (AGO): A short drive from BMO Field, the AGO houses an impressive collection of artwork from around the world, including contemporary, Indigenous, and European art.
These attractions, along with many others, make the area surrounding BMO Field a vibrant and exciting destination for visitors of all interests and ages.
Places to Stay Near the BMO Field
There are numerous accommodation options within close proximity to BMO Field, ranging from luxury hotels to budget-friendly stays. Here are some popular choices to consider for your visit:
Hotel X Toronto by Library Hotel Collection: This luxury hotel, located within Exhibition Place, offers stunning views of the city and Lake Ontario. With upscale amenities, multiple dining options, a rooftop pool, and a fitness center, Hotel X provides a convenient and comfortable stay near BMO Field.
The Westin Harbour Castle: Situated along Toronto's waterfront, this upscale hotel features spacious rooms, a fitness center, indoor pool, and several on-site dining options. The Westin Harbour Castle is just a short drive or streetcar ride away from BMO Field.
Delta Hotels by Marriott Toronto: This modern, 4-star hotel is located in the South Core neighborhood, offering easy access to BMO Field, the CN Tower, and the Toronto waterfront. The hotel features contemporary rooms, an indoor pool, and a fitness center.
Residence Inn by Marriott Toronto Downtown/Entertainment District: This extended-stay hotel features spacious suites with fully equipped kitchens, making it an ideal choice for longer visits. Located in the Entertainment District, the hotel is within walking distance of several attractions and a short streetcar ride to BMO Field.
The Strathcona Hotel: This budget-friendly hotel, situated in the heart of downtown Toronto, offers comfortable rooms and a convenient location. With easy access to public transportation, you can reach BMO Field and other attractions in just a few minutes.
Liberty Suites: Located in the trendy Liberty Village neighborhood, these furnished suites offer a more residential experience. With fully-equipped kitchens and spacious living areas, Liberty Suites provide a home-away-from-home feel within walking distance of BMO Field.
The Gladstone Hotel: This boutique hotel, situated in the artsy Queen West neighborhood, features unique, artist-designed rooms and a vibrant, creative atmosphere. The Gladstone Hotel is just a short streetcar ride away from BMO Field.
With a variety of options available, you're sure to find the perfect accommodation for your visit to Toronto.
Entrances at the BMO Field
BMO Field has several entrances to facilitate easy access for guests attending events. These entrances are strategically located around the stadium to accommodate the various seating sections and ticket types. Here are the main entrances at BMO Field:
Gate 1 (Northwest): Located at the northwest corner of the stadium, Gate 1 provides access to the north end seating sections, including 201-211 and 221-231.
Gate 2 (Northeast): Situated at the northeast corner of the stadium, Gate 2 serves the north end seating sections, including 201-211 and 221-231.
Gate 3A (East): Gate 3A, positioned on the east side of the stadium, offers entry for guests with tickets to the east side seating sections, such as 104-106 and 223-225.
Gate 3B (East): Also located on the east side, Gate 3B is dedicated to Premium Club Seat and Suite ticket holders, providing access to their exclusive seating areas.
Gate 4 (Southeast): Situated at the southeast corner of the stadium, Gate 4 is the dedicated entrance for the south end seating sections, including 112-120.
Gate 5 (Southwest): Positioned at the southwest corner of the stadium, Gate 5 serves as the main entrance for the south end seating sections, including 112-120, as well as the designated supporters' sections.
When attending an event at BMO Field, it is important to arrive early and familiarize yourself with the location of the appropriate entrance for your seating section. This will ensure a smooth entry process and help you make the most of your time at the venue. Additionally, be prepared for security checks, including bag inspections and metal detector screenings, as part of the entry process.
Facilities for the Disabled at the BMO Field
BMO Field is committed to providing a comfortable and enjoyable experience for all guests, including those with disabilities. The stadium offers a range of facilities and services designed to ensure accessibility and convenience for guests with special needs:
Accessible Seating: BMO Field provides designated accessible seating areas throughout the stadium, with wheelchair spaces and companion seats available in various sections. Accessible seating can be purchased in advance, subject to availability.
Accessible Entrances: All entrances at BMO Field are wheelchair accessible, making it easy for guests with mobility impairments to enter the stadium.
Elevators: Elevators are available at the stadium to provide access between the various levels, including the concourse, premium seating areas, and suites. Elevators can be found near Gates 1 and 3.
Accessible Restrooms: BMO Field has accessible restrooms available throughout the stadium, located on all levels and in close proximity to the designated accessible seating areas.
Assistive Listening Devices: Guests with hearing impairments can request assistive listening devices at Guest Services, located near Gate 1. These devices are available on a first-come, first-served basis and require a piece of identification to be held as a deposit.
Service Animals: BMO Field welcomes certified service animals to assist guests with disabilities. Guests planning to attend an event with a service animal should notify the venue in advance to ensure appropriate accommodations can be made.
Accessible Parking: Designated accessible parking spaces are available in the parking lots surrounding BMO Field. These spaces are available on a first-come, first-served basis and require a valid accessible parking permit.
When attending an event at BMO Field, it is recommended to contact the venue in advance to discuss any specific accessibility requirements or concerns. This will help ensure a seamless and enjoyable experience for all guests.
Available Food and Drinks Options at the BMO Field
BMO Field offers a variety of food and drink options to cater to different tastes and preferences. From classic stadium fare to local specialties, there's something for everyone. Here are some of the available options at the stadium:
Concession Stands: Scattered throughout the concourse, concession stands serve traditional stadium fare such as hot dogs, burgers, pizza, nachos, popcorn, and pretzels, along with a variety of soft drinks and bottled water.
Specialty Food Stands: BMO Field also features specialty food stands offering diverse culinary options, including international cuisine, vegetarian and vegan options, and gourmet dishes. Some stands may serve items like sushi, poutine, gourmet sandwiches, and artisanal sausages.
Food Trucks: During certain events, food trucks may be present on the stadium grounds, providing additional dining options and local flavors.
Beer and Alcohol: BMO Field offers a variety of alcoholic beverages, including domestic and imported beer, wine, and mixed drinks. Alcohol is available for purchase at designated concession stands and portable carts throughout the stadium. Note that alcohol sales are typically limited to guests aged 19 and over, and proper identification may be required.
Premium Dining: Guests with access to the Premium Club Seats and Suites can enjoy an enhanced dining experience with in-seat food and beverage service, as well as access to exclusive club lounges featuring a selection of upscale food and drink options.
Parking at the BMO Field
BMO Field offers several parking options for guests attending events, including on-site and off-site parking lots. Here's what you need to know about parking at BMO Field:
On-site Parking: BMO Field has several on-site parking lots, including the Exhibition Place lot, which is located right beside the stadium. These lots offer a total of approximately 2,200 parking spaces, with some designated accessible spots available.
Off-site Parking: There are several off-site parking options near BMO Field, including privately-owned lots and garages. These lots are generally within walking distance or a short shuttle ride from the stadium. Guests are advised to check the hours and rates of these lots before parking.
Pre-Paid Parking: Guests can purchase parking in advance through the Ticketmaster website or mobile app. This option guarantees a parking spot and can save time and hassle on event day.
Street Parking: Limited street parking is available in the surrounding neighborhoods, but it is important to pay attention to posted parking signs and regulations to avoid tickets or towing.
Drop-Off and Pick-Up Zones: Guests can be dropped off and picked up at designated zones near the stadium entrances. These zones are designed to provide a safe and convenient option for those being dropped off or picked up by car, taxi, or ride-share service.
Please be aware that parking availability and rates may vary depending on the event and the season. It is recommended to arrive early and allow extra time to find parking and walk to the stadium. Additionally, BMO Field encourages carpooling, public transportation, and other sustainable transportation options to reduce traffic and environmental impact.
Frequently Asked Questions (FAQs)
Can I choose the Bmo Field Seat I want?
We are sorry but you cannot choose your seats for Bmo Field Tickets as our brokers don't allow that.
Are you selling canada vs. peru mbo ticket?
Check out our Bmo Field to get the tickets for Canada vs. Peru's game.