Bijou Theatre Tickets
Load More
Bijou Theatre is one of the most popular venues in the country. If you plan on attending an event at this famous venue, then go through the Bijou Theatre Seating Chart. You can take a Virtual tour of the Bijou Theatre to get an interactive seat view. Go through the Bijou Theatre seating map, and check the Bijou Theatre parking prices, if available.

Bijou Theatre Seating Chart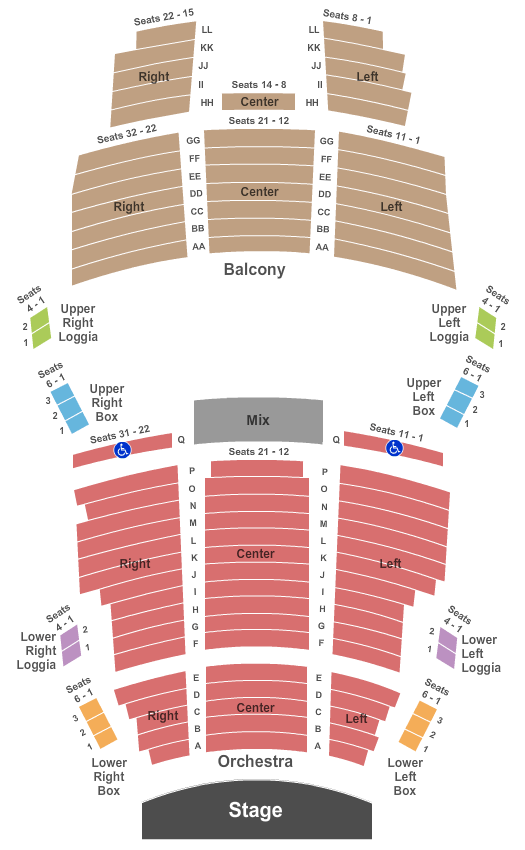 U.S. Cellular Stage at the Bijou Theatre Tickets Related Questions
Who will play at U.S. Cellular Stage at the Bijou Theatre today?
No event is happening in U.S. Cellular Stage at the Bijou Theatre tonight.
How many seats are available in U.S. Cellular Stage at the Bijou Theatre?
The seating capacity of U.S. Cellular Stage at the Bijou Theatre is 6379.
Can you buy event tickets at U.S. Cellular Stage at the Bijou Theatre?
Yes, you can buy tickets at U.S. Cellular Stage at the Bijou Theatre provided if they are available.
What are the best seats available at U.S. Cellular Stage at the Bijou Theatre?
Just like every other venue, there are different levels at U.S. Cellular Stage at the Bijou Theatre as well. The entire seating plan is available on our website, and you can book tickets for the section you like.
How many events are taking place at U.S. Cellular Stage at the Bijou Theatre this week?
You can check the complete list of events taking place at U.S. Cellular Stage at the Bijou Theatre this week and beyond by simply logging on to the venue's page on our website.
Bijou Theatre
Believing "Excitement Is Building", the City of Knoxville is noted for providing family fun and entertainment. Knoxville"s entertainment industry features world-famous Broadway shows, concerts, music acts, theatrical acts, movies and other eclectic events.

Home to some of the most famous entertainment venues, the City offers its locals and visitors a wide variety of theater, music, film, dance performance and others. Life in Knoxville bustles with year-round happenings and festivals.

But, attraction like historic Bijou Theater stands out distinct. The Bijou Theater has earned a satisfied amount of attention for bringing a wide variety of eclectic performances and world renowned artists.

Located on Gay Street, the oldest commercial thoroughfare in Knoxville, Tennessee, The Bijou Theatre is noted for playing host to performing arts events ranging from ballet recitals to rock concerts.

For entertaining audience, bringing eclectic events, featuring state-of-the-art architecture, the historic Bijou Theater successfully marked its way on the National Register of Historic Places.

Many artists and music aficionados consider the Bijou the best-sounding room in Knoxville for providing an atmosphere that is perfect for live music and the performing arts. The facility has capacity of accommodating a crowd of just over 700.

Sometimes known as the Lamar House, the Bijou Theater is contributing notably to the growing energy in Knoxville. The history of the Theater dates back to March 8, 1909, when it was built as part of an already existing hotel known as the Lamar House.

Featuring two balconies and box seats on either side of the stage, the Bijou Theater quickly garnered attention for its rich gilt ornament. The facility has been used for opera, comedy, as well as for several variety shows.

The theater opened with Little Johnny Jones starring George M. Cohan. The Marx Brothers and Dizzy Gillespie are among those who have graced the stage.

The Bijou Theater represents an important part of Knoxville history. In 1974, the building was threatened with demolition. To save a building, a group of concerned citizens gathered to launch a campaign.

Their campaign turned out to be so successful that renovation started in theater to turn it into a center for the performing arts. In 2005, the Knoxville Mayor Bill Haslam spearheaded another fundraising campaign.

Another renovation followed, including theater seats, water damage, and upgrading the stage with modern lighting, sound, and fly equipment. In 2006, the Bijou Theater was all-set to reopen its doors for both locals and visitors.

The Knoxville"s main attraction, Bijou Theater brings ample opportunities, renowned performers and seasonal attractions for its audience. Some of the acts scheduled at the Bijou Theater include Grupo Fantasma, Dave Barnes, Robert Earl Keen, George Winstone and many!

It is bringing yet another exciting season of heart-warming events that you wouldn"t want to miss! Eclectic events, mesmerizing performances, ultimate entertainment, top-notch amenities and enchanting atmosphere? what else you want? So take some time off, spend a night out at the Bijou Theater with your family and friends and make life-long memories.
When do Bijou Theatre Tickets go on sale?
You can buy Bijou Theatre Tickets from us as we speak and that too at prices that are among the best in the market. Log on to our website for details and book your tickets now.
Will bijou theatre events tickets be available after a few days?
Bijou Theatre Tickets are being sold on first come first serve basis so they will be available for you to buy after a few days only if they are not sold-out by then.
Can I buy the bijou theatre tickets after normal working hours?
Yes, you can buy Bijou Theatre Tickets from our website anytime of the day you want.