Artpark Mainstage Tickets
Load More
Artpark Mainstage is one of the most popular venues in the country. If you plan on attending an event at this famous venue, then go through the Artpark Mainstage Seating Chart. You can take a Virtual tour of the Artpark Mainstage to get an interactive seat view. Go through the Artpark Mainstage seating map, and check the Artpark Mainstage parking prices, if available.

Artpark Mainstage Seating Chart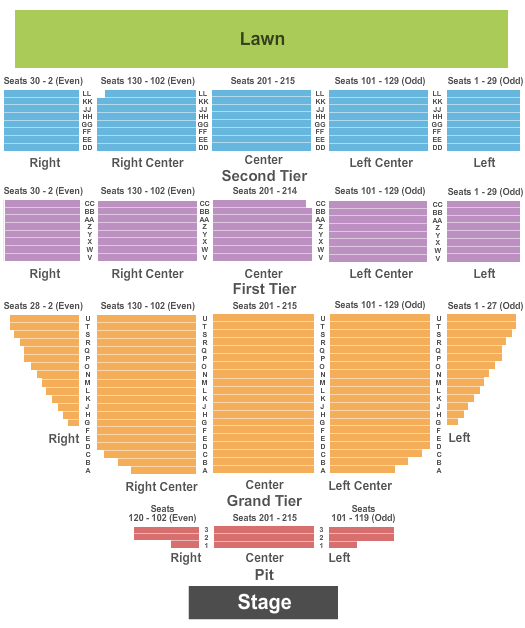 Artpark Mainstage Theatre will be celebrating its 40th anniversary with a number of exciting events this year. The venue opened in July of 1974 and is located inside the Artpark, which is a public entertainment spot of the area. Apart from the Mainstage Theatre, the park also has youth rock camps and art rooms. A number of famous singers make a stop here every year for their concerts. It hosts plays, musicals as well as private functions for the locals. A number of interesting events are lined up for this summer season as well, which you can attend with Artpark Mainstage Theatre tickets in your hand.
 
Buddy Guy, the legendary blues singer and guitarist will perform at Artpark Mainstage Theatre this year. Rolling Stone listed him at number thirty in its list of "Hundred Greatest Artists of All Time." He is among the pioneers of Chicago blues style. He has inspired a number of guitarists of the generation such as Jimmy Page, Stevie Ray, Eric Clapton and Jimi Hendrix. In 60s, Guy joined the Muddy Waters band. During the same time he was Chess Records' house guitarist. He has come up with many hit tracks like 'Stone Crazy'.
 
Chick Corea is a jazz keyboardist, pianist and music composer. He found initial fame as a member of the Miles Davis band during the 60s. He was also among the pioneers of the electronic jazz fusion. During the 70s, Corea formed his own band by the name of Return to Forever with fellow musicians, McCoy Tyner, Herbie Hancock and Keith Jarrett. During the 80s and 90s, Corea continued to experiment and explored a number of new genres and musical styles, creating his own unique music.
 
Apart from these legendary blues and jazz singers, a relatively new pop-rock band from Canada, Marianas Trench, is going to stage a concert at Artpark Mainstage Theatre as well. This young band was formed in 2001. So far, the band has released three studio albums. Latest one was 'Ever After', which managed to win them a nomination at the Juno Awards. The band has won several other awards and nominations as well.
 
Other than all the concerts that are lined up, Artpark Mainstage Theatre will also be hosting a musical this season. 'The Sound of Music' has its lyrics written by Oscar Hammerstein II with music composed by Richard Rodgers. The musical is based on the book written by Howard Lindsey in collaboration with Russel Crouse. The show premiered on Broadway in 1959 and now a revival show is ready to be staged. Get Artpark Mainstage tickets to attend the event of your choice.
Artpark Mainstage
was rated 
How can I pay for my artpark tickets?
You can use a credit card to pay for your Artpark Mainstage Tickets.